Academy: Players Born in 2012 & 2013
PRE-SEASON

PARENT MEETING

: 2/25, 6:45pm @ Great Bridge Middle School. 

SHIRTS DISTRIBUTED

AT DICK'S SPORTING GOODS ON SENTINEL DR. MARCH 7, 10:00am-4:00pm.
Core Values. Professional Coaching. Focused Player Development. Team Environment.
Professional, Licensed Coaching Staff

Academy Style Training Twice a Week:  5:45-6:45   2012 – M/W  | 2013 – T/R

Introductory & Intermediate Soccer Development & Character Building
Program Description
Calendar
Program Fees
Registration
Point of Contact
Requirements
Academy
The Chesapeake United Academy Program is a preparatory soccer program that focuses on various aspects of individual player development. The objective of the Academy is to provide an appropriate intermediate curriculum to maximize technical development and basic tactical understanding in a training and game environment that will prepare players for the Competitive Program. All players will receive instruction from professional, licensed coaching staff. Through quality coaching and a well-developed curriculum, the Academy seeks to develop a strong foundation in each player which will best prepare them for the Competitive Program beginning at U9.
Meet the Staff!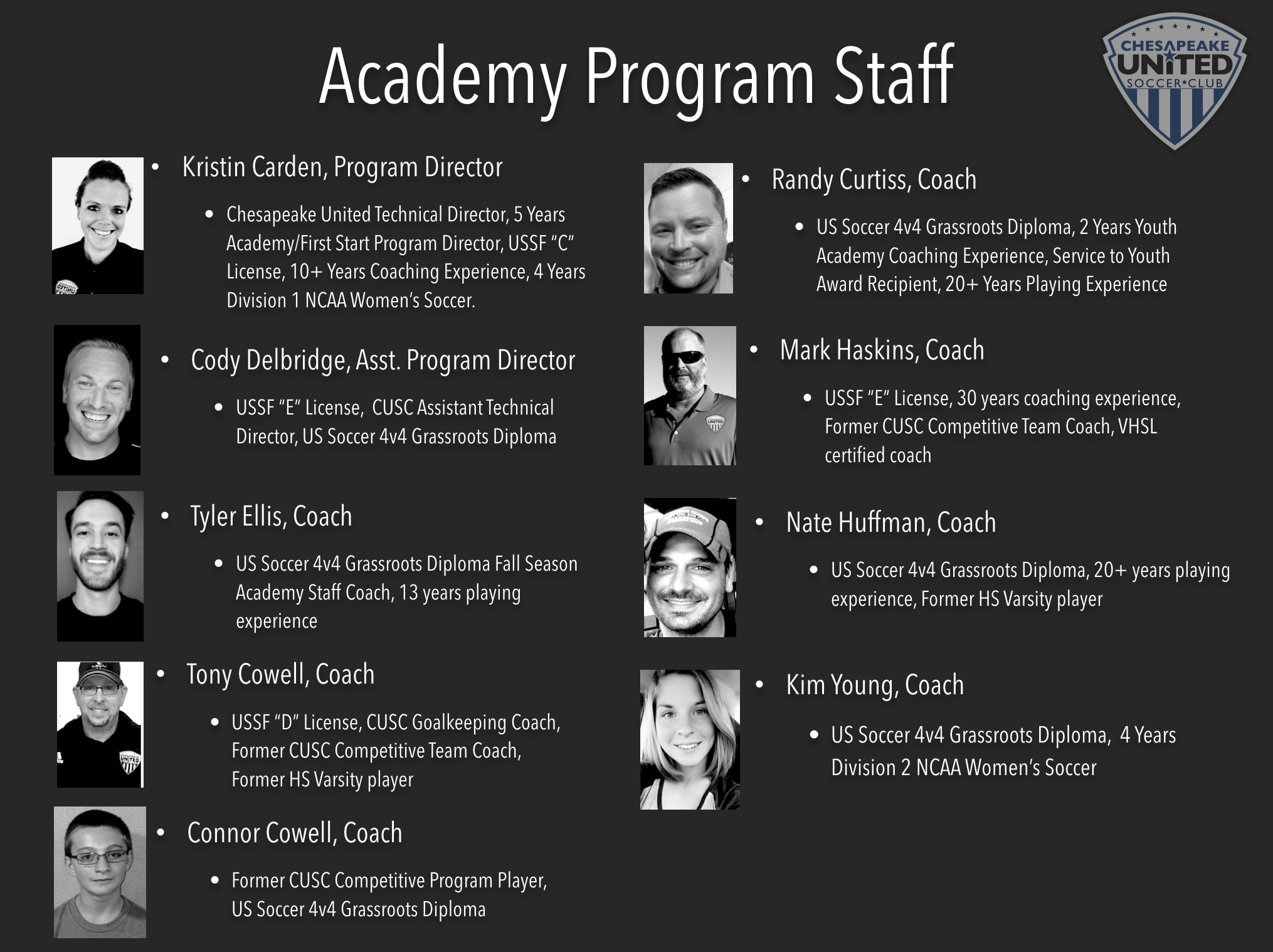 Academy & First Start Calendar

Questions? clubadmin@chesapeakeunited.org
Program Fees
CUSC ACADEMY PROGRAM FEES
Academy Division Club Fee: $149 per player (early bird through February 1)
1. ACADEMY PROGRAM CLUB FEE COVERS:
Fee includes two jerseys (one white and one blue)
VYSA Insurance Fees
Trained Coaching Staff Salaries
End of Season Treat and Award
Club Staff
Field use and maintenance
Miscellaneous Club operational expenses
Each season will include the following:
2 one-hour sessions each week for 8 weeks
1 Intra-Academy Program game each Saturday
Professional coaching staff
All training sessions will be designed and planned by Academy Staff
Parent meeting preceding the fall and spring seasons
2 training/game shirts
Awards Day at the conclusion of each season
2. REFUND POLICY:
Refunds can be requested up to the beginning of the season's first practice.
After the season begins, NO refunds will be given unless a player is injured or is required to move out of the Hampton Roads Area.
The amount of refund or credit for the next season will be determined on a case by case basis.
Documentation is required for unexpected moves or injuries.
Refunds granted prior to the beginning of the season will be given less the following fees:
o $20.00 Administrative Fee.
o $ 10.00 VYSA Insurance Fee·
o Money spent by club on jersey or award if orders already placed.
Refund request date is the date that a written request is made via letter or email. All requests must be in writing.
Registration
Fall Season (September & October):
Academy:  Guaranteed placement for players registered by August 20.
Spring Season (March, April, May):
Academy:  Guaranteed placement for players registered by February 20.
U4-U6 Players: Academy First Start Program
U7-U8 Players: Academy Program
U9 Players: Advanced/Competitive Programs
For additional information please contact: academydoc@chesapeakeunited.org
CUSC Academy Program Contacts
Nan Beck, Club Administrator ClubAdmin@ChesapeakeUnited.org
Kristin Carden, Technical Director
academydoc@chesapeakeunited.org
Required Equipment
ACADEMY AND FIRST START
WHAT YOUR CHILD WILL NEED FOR PRACTICES AND GAMES:
Cleats (preferred but tennis shoe are acceptable)

Shinguards required

Size 3 Soccer Ball – U4 through U6

Size 3 Soccer Ball – U7 – U8

Water