Competitive Program: U9-U19
Professional, Licensed Coaching Staff

2 Team Training Sessions Per Week on Lighted Bermuda Grass Fields

18-24 Club Technical Training Sessions  included in Fees (6-8 Per Season: Fall, Winter, Spring)

Competitive League Play in Virginia Premier Soccer League

2 Tournaments Included in Club Fees, Additional Tournaments Possible
TRYOUTS
Program Description
Program Fees
Teams & Coaching Slate
League Information
Refunds
TRYOUTS

Step 1: Register.
Step 2: Check the Tryout Calendar.
> The tryout calendar is posted below.  Check dates, times, and age groups to be sure your player attends the appropriate sessions for their designated age and program.  Players who are currently playing up should attend tryouts with their current team unless directed otherwise. Chesapeake United has 2 dates set for youth players and 1 date set for senior players with rain out dates planned in advance.  It is strongly suggested that players attend all sessions for their respective age groups. In the event that your player is unable to attend both sessions, please contact Info@ChesapeakeUnited.com.
Step 3:  Attend Tryouts.
> Players should arrive for their tryout 20-30 minutes ahead of time to ensure proper time for check-in and warm-ups.  Be sure to visit the check-in table to get your number when you arrive. Tryouts will start promptly at the times scheduled.
Step 4: Receive Player Placement.
> At the conclusion of tryouts, staff and team coaches will meet to discuss player placements.  Once player placement meetings have concluded and all players have been assigned, team assignments will be sent out via email.  When you receive this placement, you will have 48 hours to accept your position.
Step 5:  Team Meetings & Ordering Uniforms
> When player acceptance is complete and teams are officially formed, you will be contacted by your team coach who will schedule an introductory meeting with the team to discuss summer plans and the start of the fall season.  Competitive teams and coaches will also have a meeting as a club with the Technical Director after team meetings are complete. All players should wait for an indication from the club that it is time to order uniforms prior to doing so.
Step 6: Starting Training & Games
Training will begin in August and games will begin in September with potential for a pre-season tournament in August.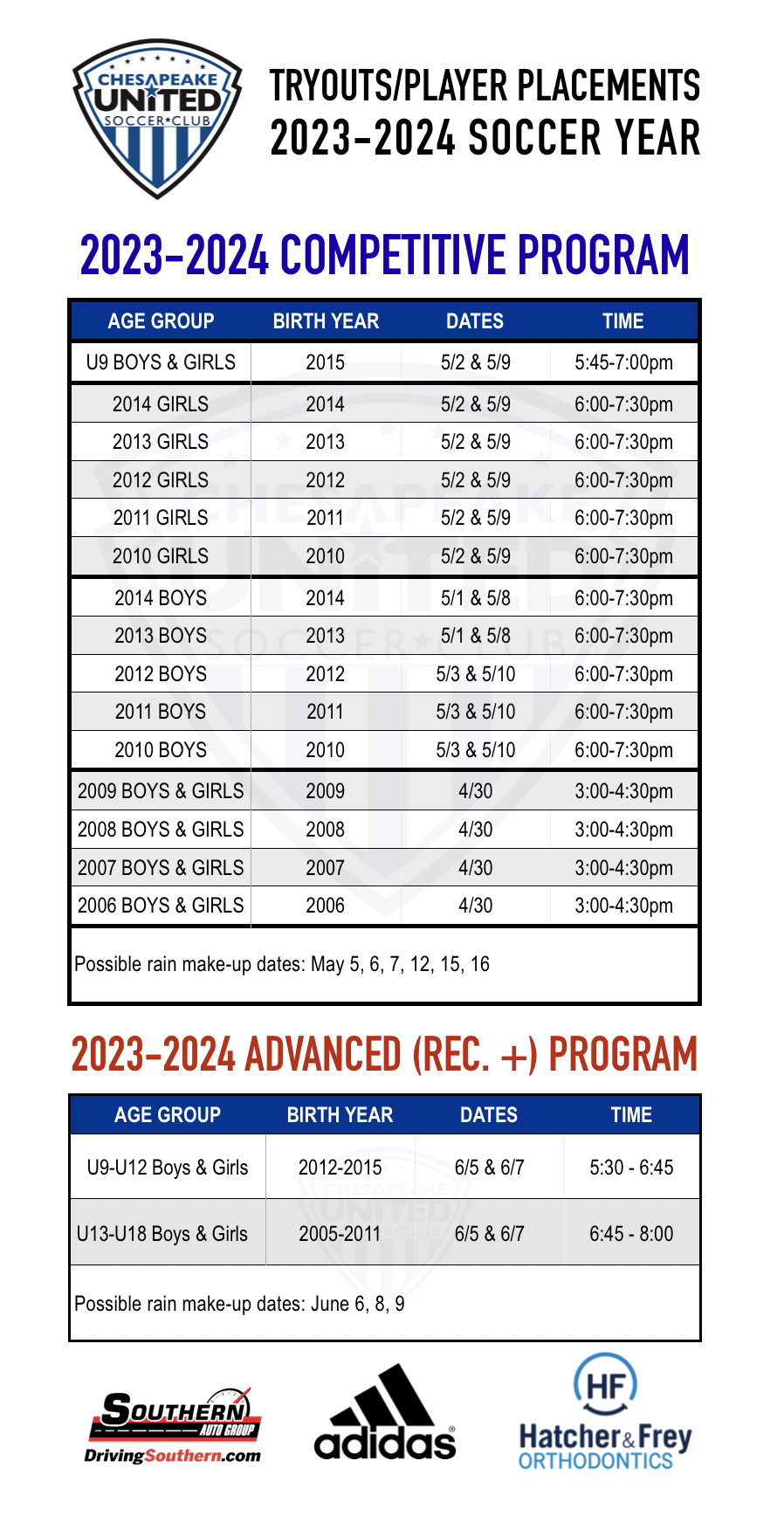 Competitive Program
The Competitive Program at Chesapeake United is the highest level of play for ages U-9 to U-19. All coaches in this program are paid professionals who are licensed by the United States Soccer Federation. Competitive Teams train twice a week during the fall and spring seasons and receive additional technical training by the Technical Director during the fall, winter, and spring seasons (included in fees).  Chesapeake United is committed to providing an exceptional youth soccer experience which values competition, sportsmanship, integrity, and hard work each and every day.  As a club, we strive to push our players to the "next level" knowing that the "next level" may be different for each individual.
CUSC Competitive Teams participate in the Virginia Soccer League (VSLi) and typically play 8-10 games per season against other Competitive Level teams in the Hampton Roads area. In addition, teams participate in 2 to 4 tournaments per season. One tournament per season is included in the fees for age groups U9-U14.
All players tryout for Competitive teams each spring and are assigned to teams based on age and ability level both mentally and physically. Chesapeake United requires tryouts for all new and returning players each soccer year in the spring before the following fall. If you have questions about the Competitive Program, please contact us at info@chesapeakeunited.com.
Competitive Program Fee Structure

---
COMPETITIVE PROGRAM BASE FEES:
Registration Fee: $5
Club Fees: See charts shown above for club fees per year for each age group.
Payments can be paid:
online by credit card
by check made payable to "CUSC" and mailed to:
Chesapeake United Soccer Club
PO Box 15524
Chesapeake, VA 23328
---
FEE INCLUSIONS:
8 Weeks of League Play Per Season (16 Total for Soccer Year) – Virginia Soccer League
Two Tournaments – One in the Fall, One in the Spring. (Two additional paid for in team fees)
Licensed Professional Coaching Salaries
U.S. Soccer Coaching Education for Competitive Coaches
6-8 Weeks of Supplemental Technical Training per Season (12-16 Total for Soccer Year)
6-8 week Winter Training Program (January/February/Early March)
Rentals for Winter Training Facilities
2 Team Training Sessions Per Week in Fall & Spring Seasons
Goalkeeper Specific Training
Lighted fields at Centerville Park
College Research & Preparation Program
Off-field Player Education Meetings
Technical Staff Program Management
Video film and review educational sessions
---
FEE EXCLUSIONS:
Registration fees
Uniform, apparel and individual player gear and equipment
Coach's Travel Expenses (Hotels, Per Diem)
Miscellaneous Team Expenses (i.e. Golf Tournament)
These amounts are separate from club fees and are collected and managed by the individual team. Your Team Manager will provide you with additional information about team fees.
PLAYER UNIFORMS:
Each new player will be required to purchase the designated set of uniforms for Chesapeake United Travel players which will be the official uniform through each soccer year.
Player uniforms, apparel, and equipment costs are not included in the Competitive Program Base Fees.
The current uniform kit includes: 2 Adidas jerseys (White/Black), 1 Competitive Program Adidas training t-shirt (Black), 2 Adidas shorts (White/Black), 2 pair Adidas socks (White/Black). This uniform is ordered from soccer.com once directed by the club post-tryouts.
REFUND POLICY:
After tryouts in May, each selected player will have 48 hours after being notified by the coach to either accept or reject their selection to the team and, if opting to accept, will pay the $200.00 required deposit. This deposit is non-refundable.
Refunds may be possible when due to an unexpected move or injury.  Documentation is required for unexpected moves or injuries when requesting refunds and all refunds will incur a $20 processing fee.
Chesapeake United is not obligated to provide any refunds.  All refund requests are handled on a case-by-case basis.  Processing fees may apply in addition to funds allocated for program and club expenses.
Competitive Coaching Slate
Coaching Slate Coming Soon!
Competitive Program / VSLi
Competitive teams compete at an elite level in league play and tournaments.  With hundreds of teams amongst many divisions, the Virginia Premier Soccer League offers the opportunity to place teams individually based on the competitiveness of the each team in order to promote a game schedule that will offer challenge and success which ultimately promotes growth.  Each year, the Club Director's meet to establish divisions for all clubs based on geographical location, previous records, and ability level of individual teams.  This league is referred to as "local travel" as 90% of games are within 30 minutes of each club's home facility.  Virginia Premier Soccer League games are played on Sundays, with occasional Saturday games, with kick off times usually ranging from 11:00am to 4:00pm.
Teams who finish in the top of their divisions in the Virginia Premier Soccer League have an opportunity to compete on the national stage in the National Premier League which is the host of the Virginia Premier Soccer League.  Teams will also have an opportunity to compete in single-elimination state tournaments beginning at twelve years old for a chance to become state champions.
Chesapeake United makes a point to ensure that all teams compete in leagues, tournaments, and events which offer each team the opportunity to compete in an environment which balances challenge and success.
Refund Policy
Each selected player will have two days after being notified by the coach to either accept or
deny their selection to the team and will pay the $200.00 required deposit. This deposit is non-refundable.
Refunds can be requested for Executive Board review on a case-by-case basis due to player injury or unexpected household moves. A $20 processing fund will be charged for each refund given.
Refunds for fees paid to the team will be handled within the team. Amounts expended by the team prior to the request will not be refunded. 
Documentation is required to support the injury or unexpected move.