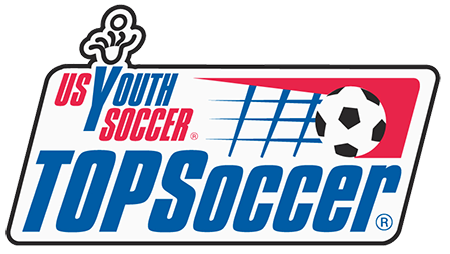 Tuesdays, 5:30-6:30 at Centerville Park!
Wondering if there is training today? Contact info@chesapeakeunited.com or call 757-271-8619.
---
What is TOPSoccer?
US Youth Soccer TOPSoccer (The Outreach Program for Soccer) is a community-based training and team placement program for young athletes with disabilities, organized by youth soccer association volunteers. The program is designed to bring the opportunity of learning and playing soccer to any boy or girl, who has a mental or physical disability. The goal of US Youth Soccer is to enable the thousands of young athletes with disabilities to become valued and successful members of the US Youth Soccer family.
Why Do We Need TOPSoccer?
TOPSoccer was formed to perpetuate the US Youth Soccer mission statement which is, in part, "to foster the physical, mental and emotional growth and development of America's youth through the sport of soccer at all levels of age and competition." There are thousands of children with disabilities who need, and can be provided with, the opportunity to play soccer through the TOPSoccer program.
Who Can Participate?
Any child/young adult with a disability. Disabilities might include:
Autism
Down Syndrome
Muscular Dystrophy
Cerebral Palsy
Sight or Hearing Impaired
Traumatic Brain Injury (TBI)
What Can Parents Expect?
A fun and meaningful experience for their child.
Games and activities will be adapted in ways that ensure the child will learn at his/her own pace.
Practices and games will be organized.
The program will improve the overall fitness, self-esteem and social skill of the child.
We Need VOLUNTEERS!
TOPSoccer requires coaches and buddies to work with players.  If you are interested in volunteering to be a part of a great program and rewarding experience, please contact our club administrator, Chelsea Varnes, for more information.  Email: Admin@ChesapeakeUnited.com | Phone 757.271.8619