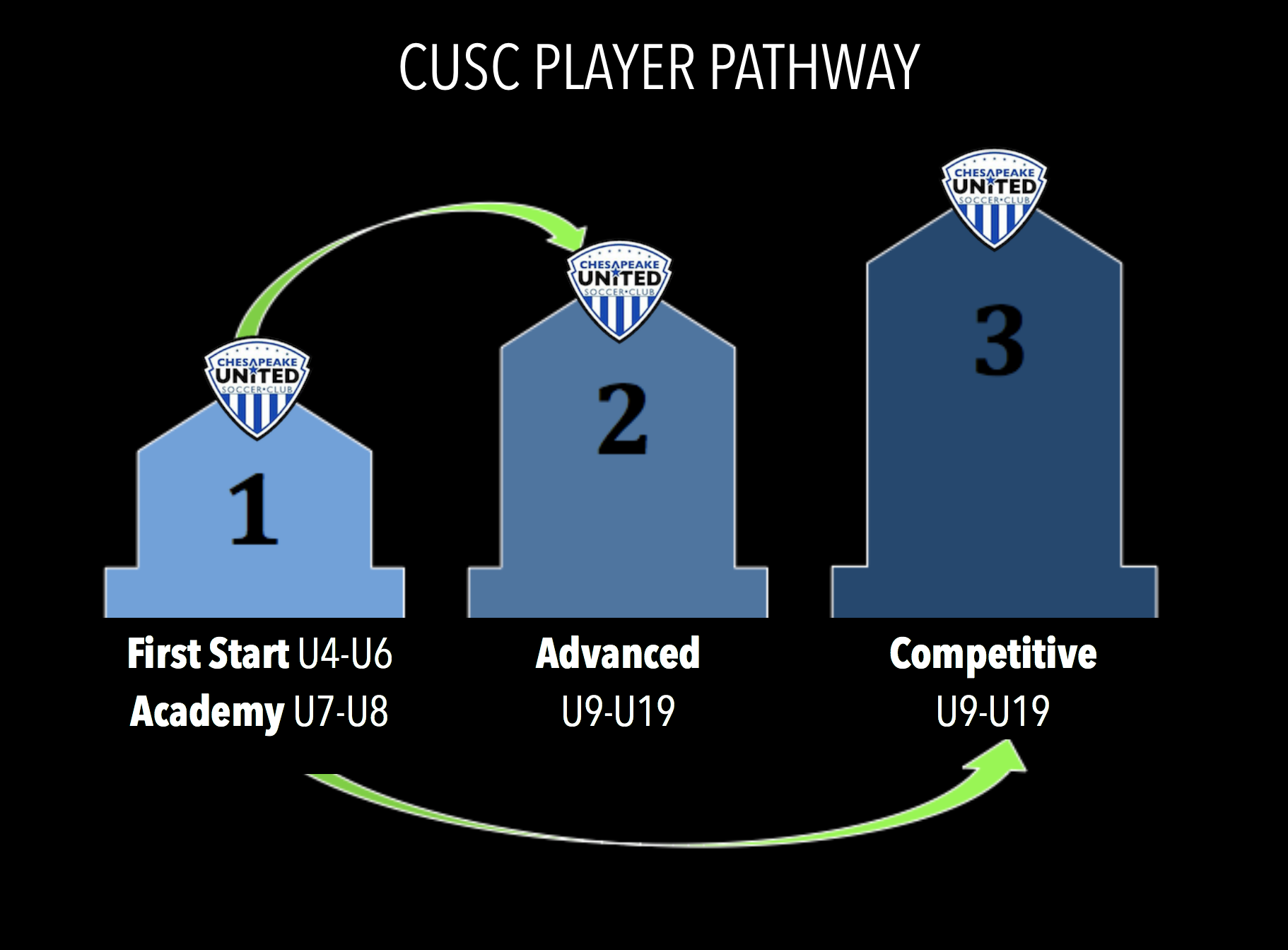 At Chesapeake United, we make a conscious effort to place each individual player where he or she is best fit within the club.  We believe that every player has a place in our club and it is up to us to help each individual find that place.  The purpose of the Player Pathway is to help players, parents, and staff understand the current track for players of different ages, abilities, and desired levels of commitment.
---
The first level of soccer at Chesapeake United is the First Start Program, followed by the Academy Program.  In the First Start Program, players will be introduced to a sport environment and the game of soccer for the first time.  They will learn basic, age-appropriate skills while concentrating on having fun as encouraged by the volunteer coaches and parents within the program.  The main goals of this program are to introduce players to the sport, begin to develop body control, and get lots of individual play with just themselves and the ball so that they might improve their individual ball control throughout the course of the program. Players will train once a week and play games on Saturday for 8 weeks.
Following the introduction in First Start, players move into the Academy Program.  At this level, players will be coached by a professional staff of licensed coaches.  As they progress from First Start, they should be ready to begin a slightly more advanced technical curriculum.  Coaches will encourage players to try new things, attempt moves, take chances, and continue to be excited about the game of soccer.  As is true of First Start, the Academy program is very much about having fun as it is one of the main ingredients to player retention and advancement in the game.  By the end of the Academy season, players should have improved technically, have a minimal understanding for teammates involvement and basic field awareness.  This program prepares players to move on to the Travel and Advanced levels – which path they take depends on each individual.  Players will train twice a week and play games on Saturday for 8 weeks.
The Advanced Program is a level between recreation and competitive play.  These teams, from age 9 to 19, are coached by volunteer coaches.  Teams typically train once or twice a week and play games locally on Saturdays for 8 to 10 weeks in the TASL league.  This program is designed for players who may be looking to play just for fun, don't desire too much commitment, and are not interested in playing at the highest levels.
The Competitive "Travel" Program is the highest level of commitment, training, and competition at Chesapeake United.  Players in this program will train two to three times a week, play games on Sundays for 8 to 10 weeks, and participate in 2 to 4 tournaments per season.  This program is for players who are serious about their development, very passionate about the game of soccer, are looking to be challenged, and want to develop to their maximum potential.  Players in this program will receive coaching from a licensed, professional team coach and will receive technical training from the staff at Chesapeake United.
For more information on CUSC programs and to register, please see the "soccer" tab at the top of the home page.  For soccer specific questions, please contact Kristin Carden, Technical Director, at KC@ChesapeakeUnited.org.