Tryouts & Player Placement
2018-2019 Competitive Coaching Slate & Tryout Schedule will be published in April of 2018 prior to Tryouts in May.
---

Tryout/Player Placement Information:
Chesapeake United will hold tryouts and player placement for Competitive (Travel) and Advanced (Recreation) players ages U9 to U19 for two weeks in May.  More information will be released in April.
During tryouts, all players will be given a number and will be evaluated by professional staff for placement on a team best suited to the individual based on age, ability, and desired level of commitment.  At the conclusion of each age group's tryouts, players will receive invitations via email which will need to be accepted within 48 hours.  We welcome players of all ages and ability levels to attend tryouts and value the opportunity to provide all players a place to play the game of soccer.
For more information or questions regarding tryouts, contact Kristin Carden at KC@ChesapeakeUnited.org.
For administrative questions and assistance with registration, contact Nan Beck at ClubAdmin@ChesapeakeUnited.org.
Note: Parents should only register for one program tryout. If players are registered for the Travel Program but need to be moved to the Advanced Program, the Club Administrator will take care of moving the player's registration.
---
Facilities:
Primary: Centerville Park (1857 Centerville Tpke. S.)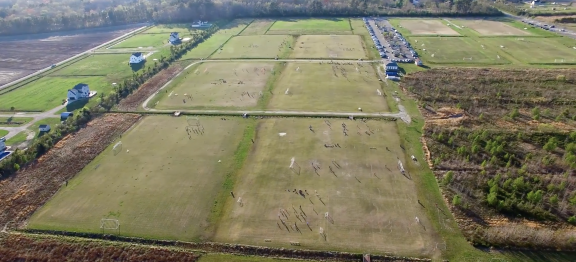 Secondary: Butts Road Primary School (1000 Mt. Pleasant Rd.) & Hugo Owens Middle School (1997 Horseback Run)
---
Travel/Competitive Program:
Included in Club Fees:
2-3 team training sessions per week with licensed team coach

6-8 club technical training sessions with professional club staff

12 month developmental program

16 Winter Training Sessions

Team based competition structure in VSLI (approx. 8 to 10 weeks per season)

Two tournaments (1 local, 1 travel — 1 tournament for '03+, 1 tournament for '09)

Licensed, professional coaching staff

Access to elite training & game facilities and equipment
Competitive Fee Structure:
Note: Fees cover entire soccer year (August-May) & Tournaments are now included in fees.

League Play: Virginia Soccer League
Travel teams compete at an elite level in league play and tournaments.  With hundreds of teams amongst many divisions, VSLI offers the opportunity to place teams individually based on the competition level and ability of each team.  This design helps to promote appropriate placement of teams with the proper balance of challenge and success with player development as the main focus.  Teams compete in what is referred to as "local travel" as 85% of games are within 30 minutes of each club's home facility.  Each year, the Technical Director's meet to establish divisions for all clubs based on geographical location as well as previous records.  At Chesapeake United, it is a primary goal to place teams in competitive levels which will help the team grow and improve the technical and tactical abilities of each individual player.  By participating in VSLi, we are able to customize each season to best fit the needs of our players.
---
Advanced/Recreation Program:
Included in Club Fees:
1 to 2 team practices per week

TASL developmental/recreational league play (approx. 8 weeks per season)

Access to training facilities and equipment
Advanced Fee Structure:
League Play: Tidewater Advanced Soccer League
Advanced teams participate in the TASL league which is a developmental league geared toward players at the recreational level.  TASL is a volunteer organization which seeks to provide access to the game of soccer for players who are looking to play for fun and development with no focus on competition.  All games are played locally.